AI logo generators make creating professional logos quick and easy, using advanced AI technology to create various styles and formats. This post compares top AI logo generators to help find the one that works best for you. Most have a free trial version to test the interface and determine if it suits your needs..
An AI logo generator is an online application that uses machine learning to create a logo for a business or brand. It analyzes patterns, colors, shapes, and typography, blending them together and matching criteria. Users provide their business name, choose fonts, colors, and style, and the generator generates a series of logos for web, print, and media use.
1. Wix Logo Maker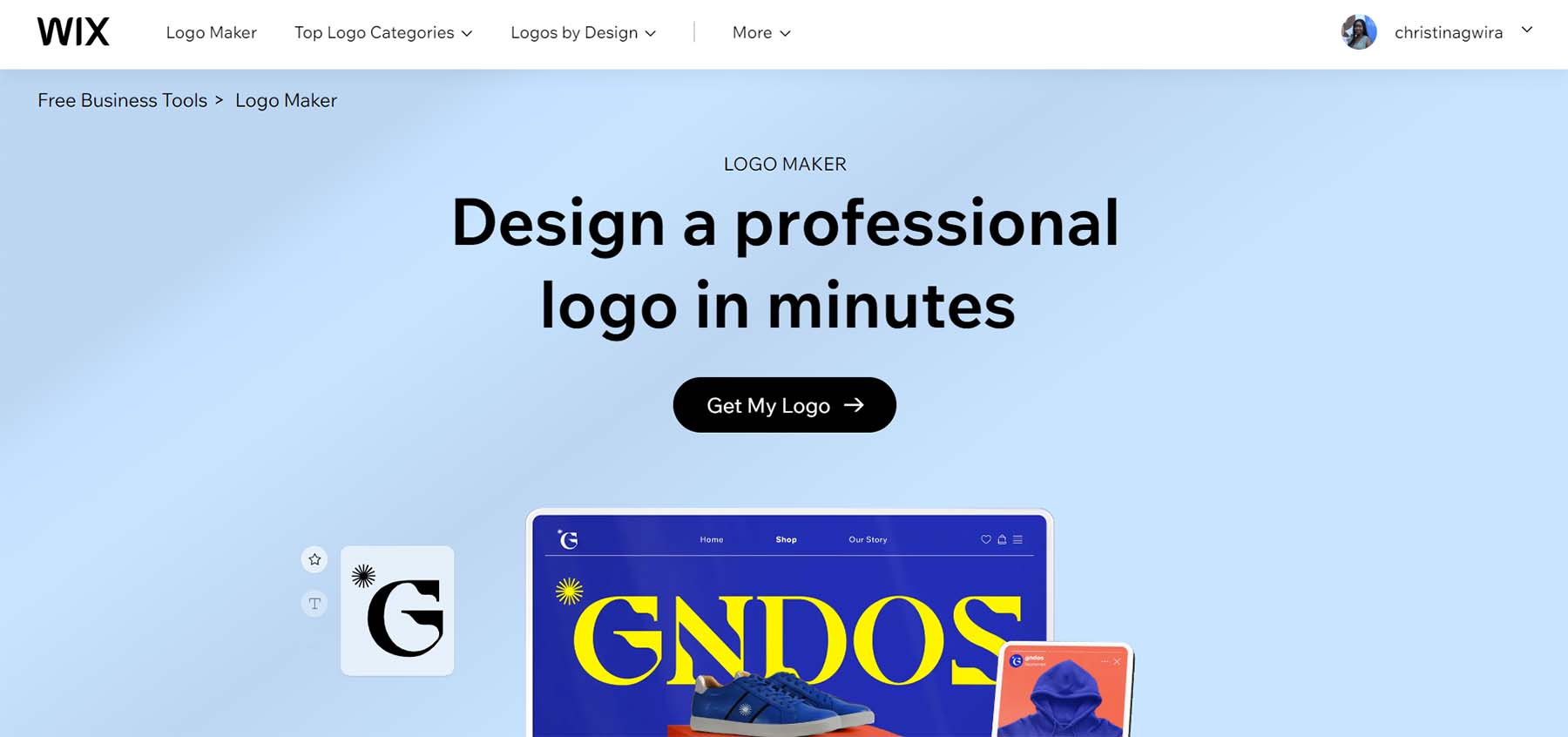 Wix Logo Generator is a versatile AI website builder that allows users to create and edit their logos. With eight file formats available, including full-color, grayscale, and monochrome, users can also download themes or integrate them into Wix Brand Studio. The tool also offers SVG versions for further editing in programs like Gimp and Adobe Illustrator.
Key Features of Wix Logo Generator:
Over 40 color palette combinations
Hundreds of font selections, including Google Fonts
Over 100 full-color and monochrome icon choices
Add and customize geometrics shapes within your logo
Upload your own design assets and logos to the generator
2. DesignEVO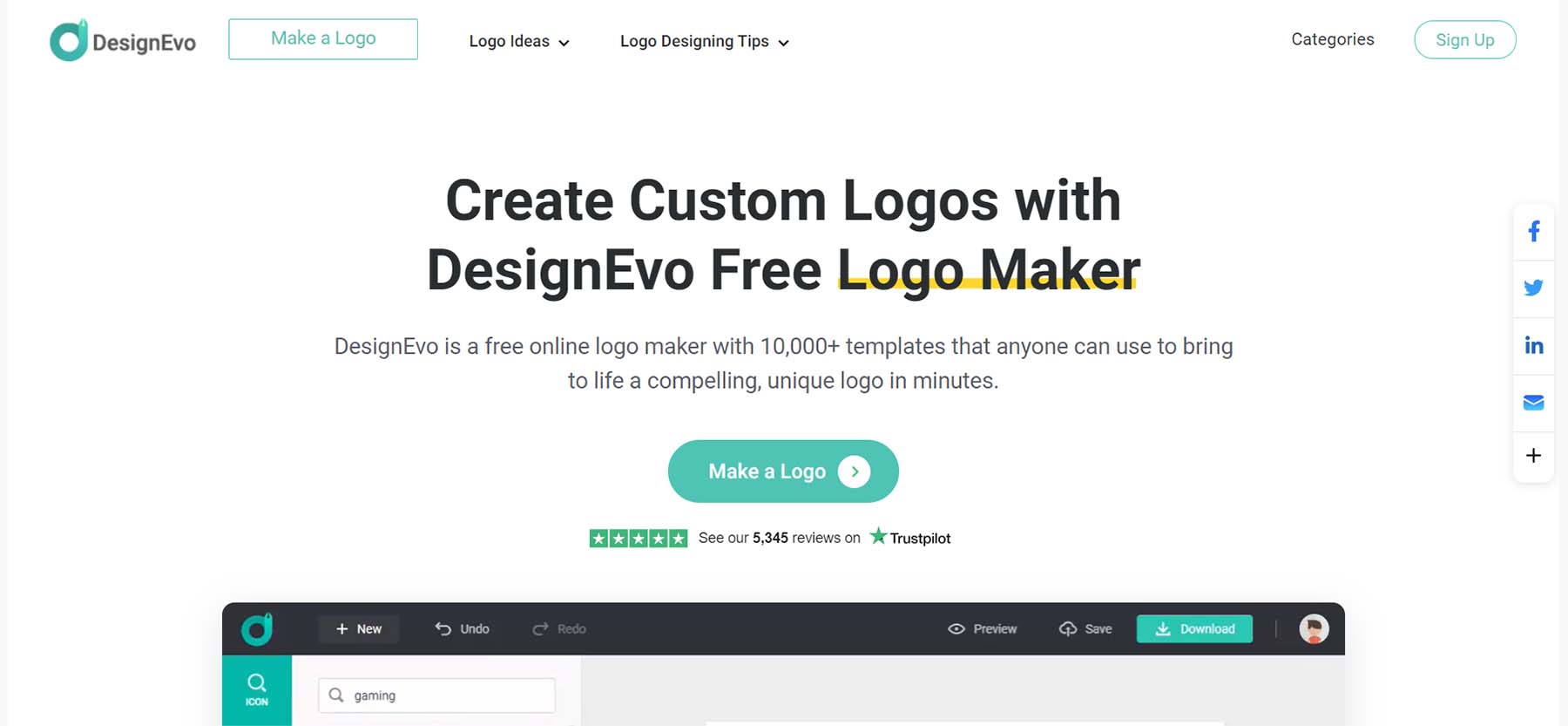 DesignEVO is a free AI logo maker and generator with an extensive library of assets. It starts with a pre-designed logo and allows users to edit and add colors, fonts, and icons. DesignEVO is highly functional and intuitive, allowing users to customize every aspect of their logo. Users can download a free version or purchase a premium version with lifetime updates, high-quality file downloads, and font files.
Key Features of DesignEVO:
10,000+ logo templates to start from
Millions of free vector icons to add to your logos
100+ font styles to use and choose from
Editable solid and gradient color schemes
Download high-quality print-ready file types like SVG and PDF
3. Looka Logo Maker

Looka is an online logo generator that collects market research and creates a logo based on industry questions. The designer provides common styles and can add a slogan for clear brand messaging. The logo can be edited unlimited times and uses machine learning and artificial intelligence to provide modern-day suggestions.
Key Features of Looka:
Generates more than 75 logos in one fell swoop
Seven color scheme categories with hundreds of choices and selections
More than 300 font options in a variety of styles, including handwritten, vintage, sans serif, and much more
Saves previous logo generations and allows you to favorite generations that speak to you
Upload your own logo to edit and generate a brand kit from
4. Tailor Brands Logo Maker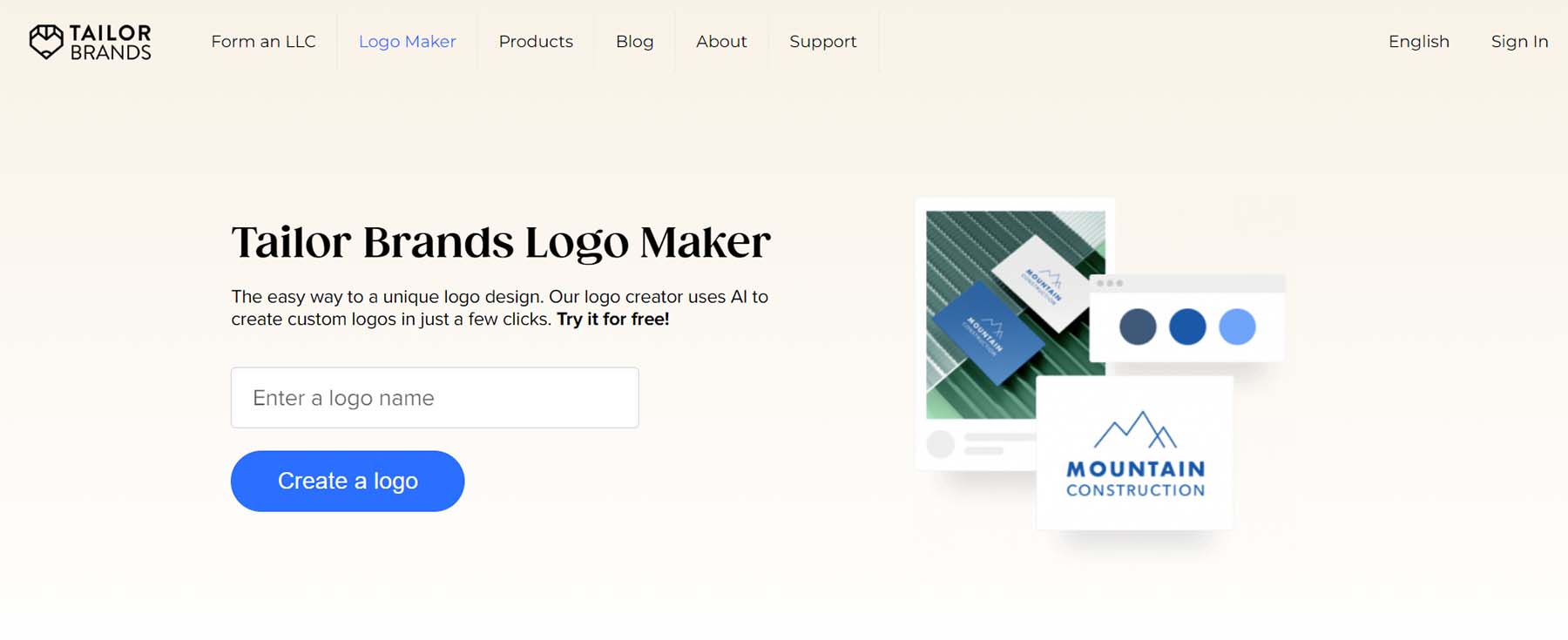 Tailor Brands is a comprehensive platform for businesses and brands, offering tools like an AI logo maker for creating logos. With a clean, easy-to-understand layout and a vast library of fonts, icons, colors, and styles, Tailor Brands simplifies the process of creating a logo. The platform also assists with other business necessities, making it the ideal starting point for building a brand.
Key Features of Tailor Brands:
The straightforward visual logo design process with hundreds of icons, color schemes, and layouts
Generates over ten different logo options based on your color, font, and style selections
Ability to download high-quality PNG and JPG versions of your logo on a white or transparent background
Save your favorite logo combinations and download a free sample
Generates business card designs, branding books, and more
5. LogoAI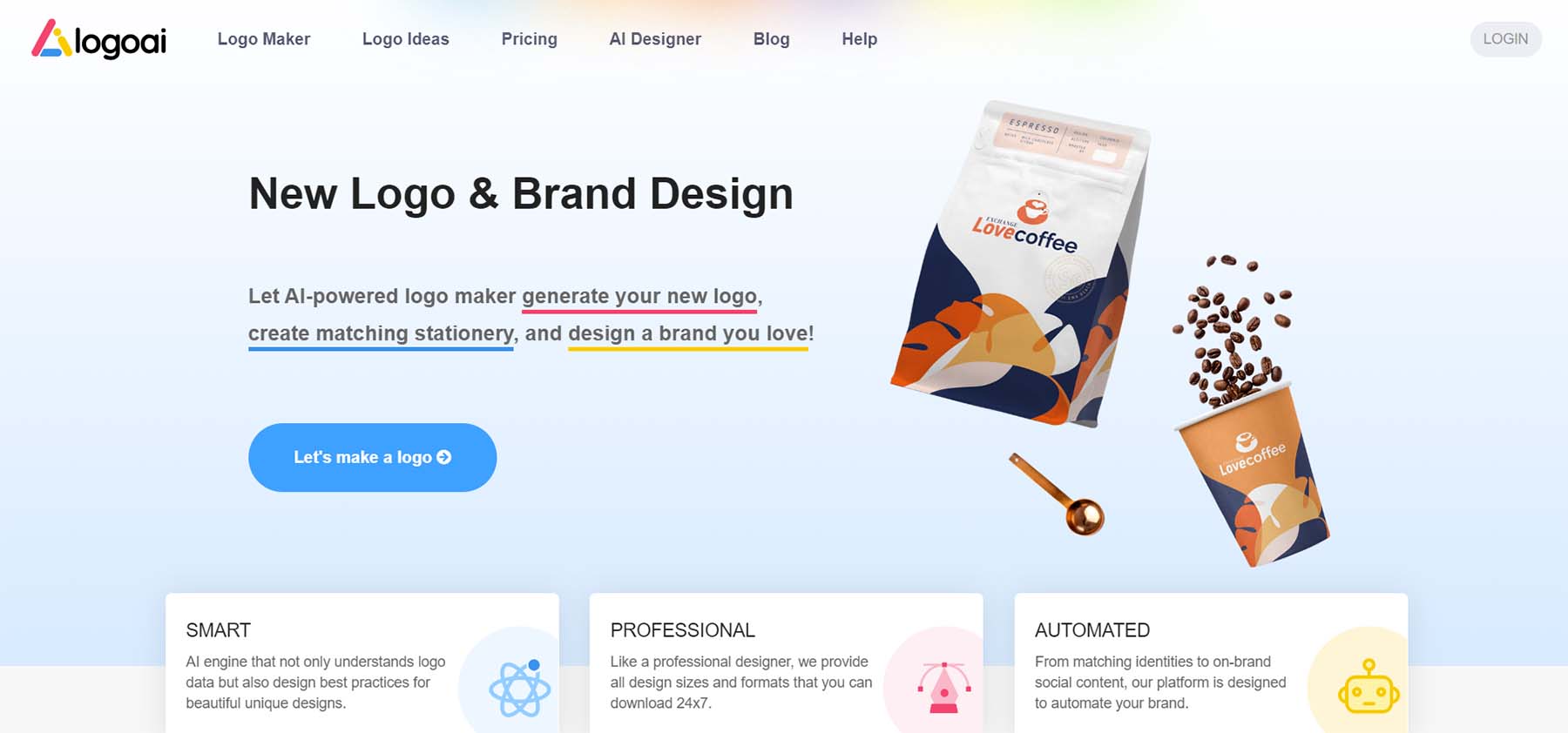 LogoAI is an AI logo generator with a simple interface, allowing click-and-drop design. However, it may have limitations in certain options, such as restrictive color schemes. However, it excels in providing animated logos and offering editing options for all aspects of the logo, including icons, text, and color customization. This sets it apart from other generators that skip out on these features.
Key Features of LogoAI:
Over 50 fonts to choose from, including Google Fonts
Upload your custom font for use within the AI generator
Seven primary color schemes with a custom color picker option as well
Logos can be made available in PNG, SVG, and PDF file formats
Download video and GIF animated versions of your logo
6. Designs.AI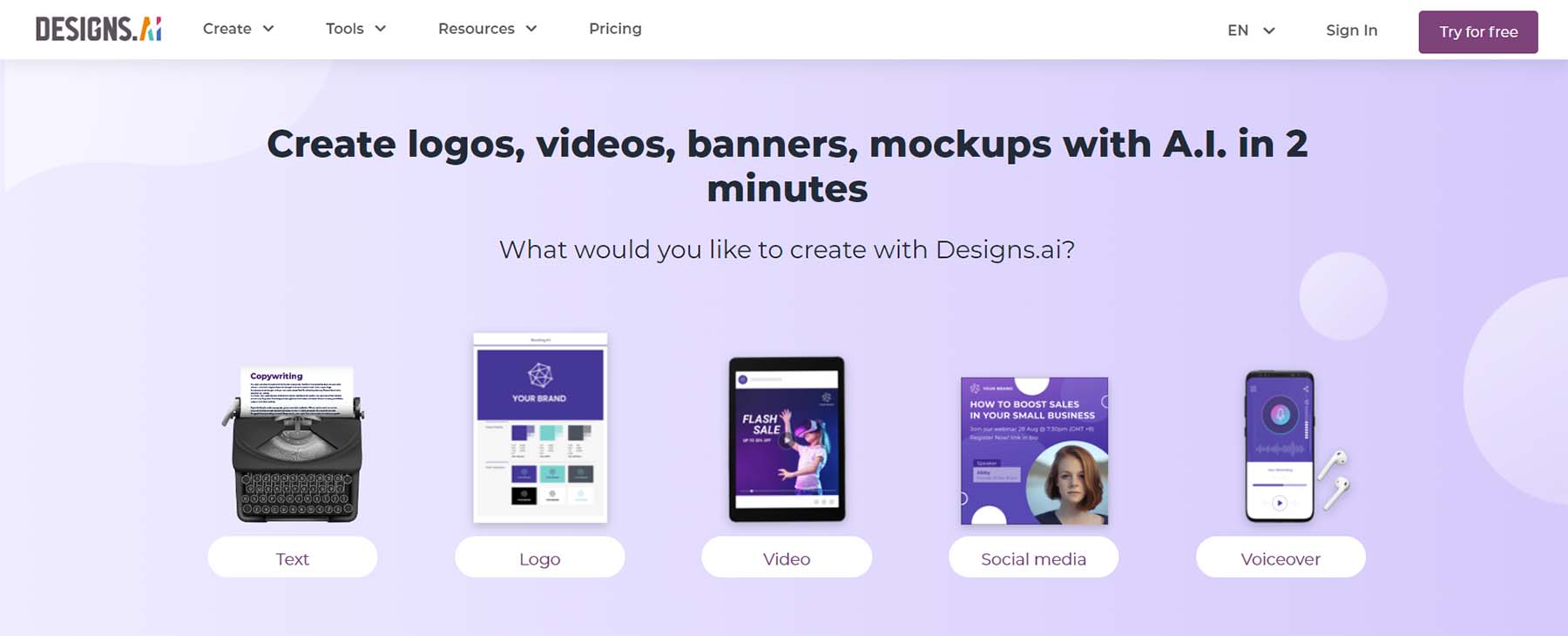 Designs.AI is a comprehensive design studio with AI generators for copy, videos, and logos. It allows users to create various logos based on their industry and branding. Users can customize their logo using various controls, including background changes and icons from its extensive library. The generator uses Google Fonts, allowing users to choose popular web-based fonts for branding and websites. Users can download their logos in SVG, PNG, JPG, and PDF formats. With a monthly subscription, users can create and manage a complete branding, social media kit, brand story, and mockups using their logo.
Key Features of Designs.AI:
10,000+ icons available for use
Smart suggestions for font, color, and style combinations
Eight font style categories, 20+ color palettes, and 60+ icon border styles
Alignment, vertical and horizontal transformation, and undo/redo tools and options
Change font letter spacing, font size, and positioning of business name and slogan
7. Hatchful Logo Maker (by Shopify)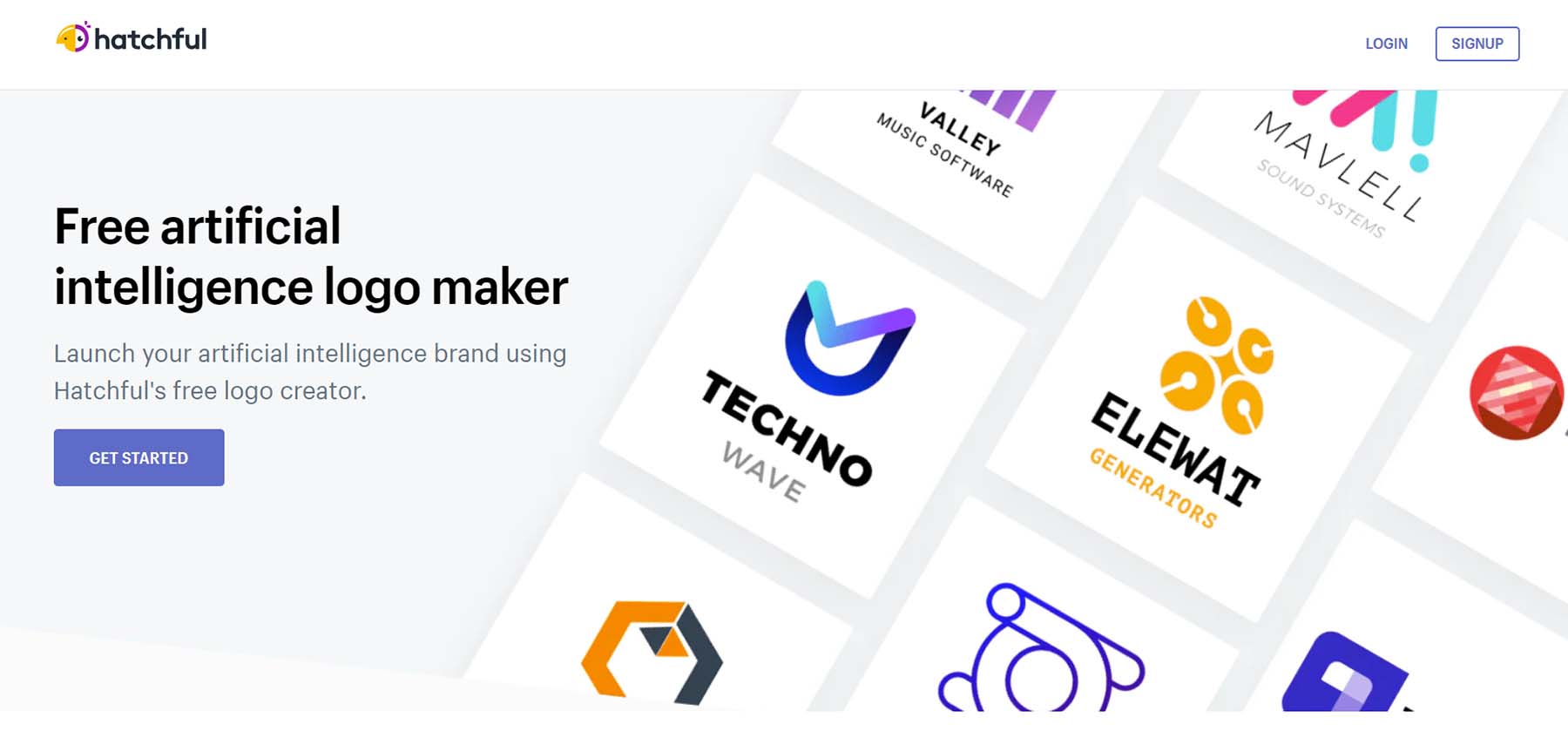 Hatchful by Shopify is a free logo generator that uses AI to create color and logo combinations for establishing a basic visual identity. It offers three main options: edit business name and slogan, change font, and select a color from the generated palettes. Hatchful is a basic option for basic logos, while Shopify's Business Name Generator is available for those who haven't yet settled on a business name.
Key Features of Hatchful by Shopify:
Integrated with Google Fonts
Ten different color styles
Hundreds of color and font options
Free social media assets based on your newly created logo
8. Logomaster.ai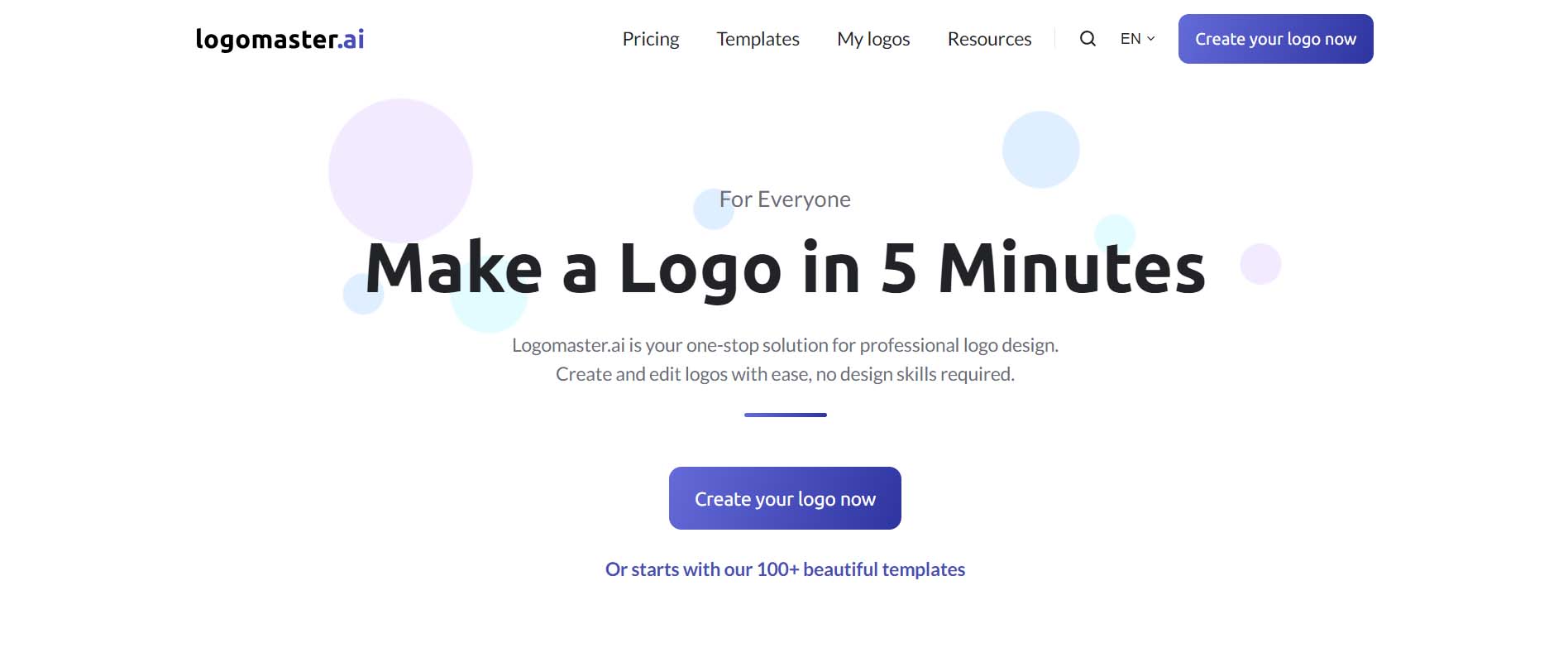 Logomaster.ai is a master of AI logo generation, allowing users to create a professional logo in just 5 minutes. The process starts with a questionnaire involving industry, slogan, business name, and logo style. Users can select fonts, colors, and icons, with extensive combinations. The platform features a powerful editing interface, allowing quick edits without design software. It's integrated with Google Fonts, allowing users to choose from a library of backgrounds, shapes, and lines. Logos can be downloaded in high-resolution and web-ready file formats, and depending on the package, additional variations can be provided.
Key Features of Logomaster.ai:
100+ logo design templates
100+ icon options
15+ premade color palettes
Six font categories, boasting over 100 fonts in total, powered by Google Fonts
Add decorations like frames, borders, patterns, separators, and decorative lines.
9. Logobean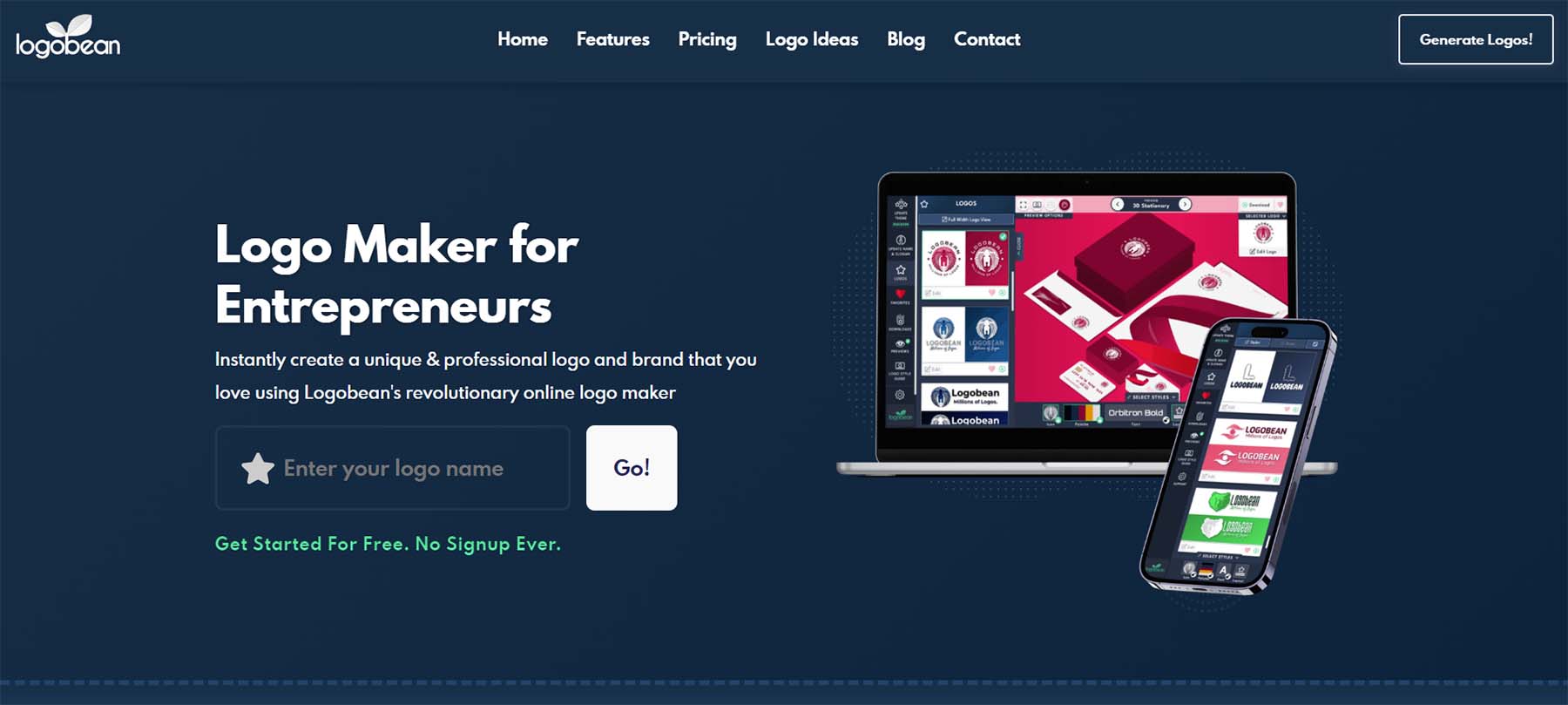 Logobean is an AI logo generator with a complex yet powerful interface, offering various options for editing and styling logos. Users can select icons, fonts, and color palettes, as well as apply rotation, line and letter spacing, font size, and text alignment to their logo. Additionally, users can choose various hues and tints from the color picker, allowing for endless possibilities for colonizing their logo.
Key Features of Logobean:
Integrated with Google Fonts
Five central color palette schemes, with over 20 color palettes within each scheme
Generates interactive, digital logo style guide complete with brand guidelines for logo and typography usage
Download logo files in PNG and SVG.
Online logo management portfolio where your users or team can download your logo and associated brand guidelines
10. Logo.com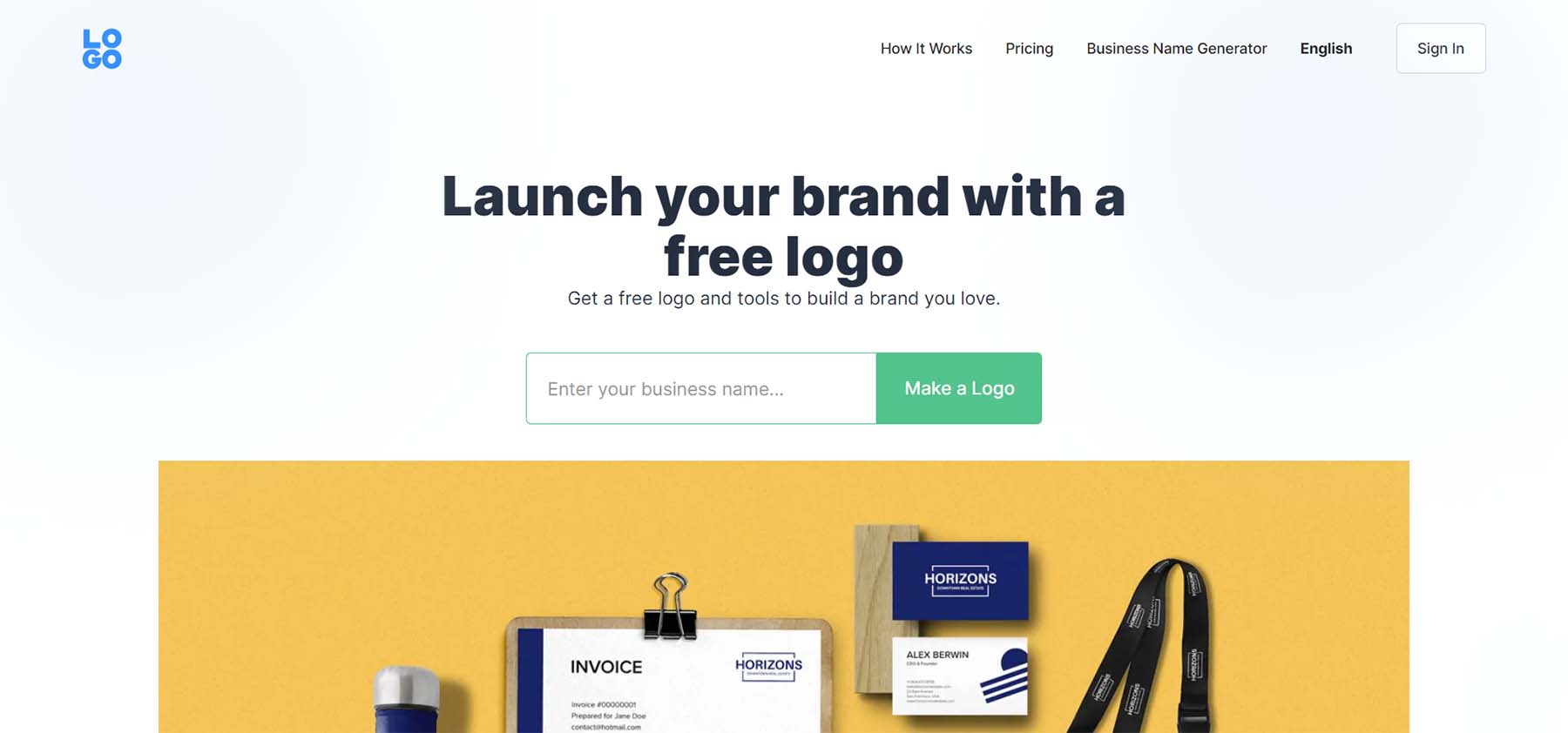 Logo.com provides a vast library of logo templates, icons, fonts, and colors for users to customize their logos. Tools help fine-tune designs, allowing users to adjust layout, colors, font styles, and add or remove elements. Logo.com also offers branding services, including business card designs, social media assets, and stationery, ensuring a consistent brand image across various platforms.
Key Features of Logo.com:
Generates an unlimited of logos from your questionnaire
100s of custom color palettes and themes
Easy-to-use interface with simple tools and controls for logo design
Save and share logo variations for use and download later