Meetings have looked a little different since the pandemic changed the way we all work. We've progressed from conference rooms and round tables to Zoom meetings and Google Hangouts in the last few years, which means that the way we collaborate and interact will change. Enter remote collaboration tools, particularly note-taking apps.
Benefits Of Taking Notes In A Remote World
"Taking notes" has long been important for effective communication and teamwork, but in our remote world, it has taken on a whole new meaning. To begin with, creating an agenda ahead of time using note-taking apps allows everyone to be on the same page. Without those pre-meeting moments to discuss the agenda in person, you'll need to devise a meeting format. It is critical to use note-taking apps to prepare the team for the meeting and to share the notes with everyone ahead of time.
Things are also more likely to get lost in the shuffle during your virtual meetings. Did you know that nonverbal communication accounts for more than 70% of all communication? This means that something you say on Zoom may be interpreted very differently than it would be in person. That is why it is critical to take accurate notes or designate a team member to record all items discussed. Without meeting notes, things become much more difficult in the long run because you won't have a log of items discussed to refer to in the future or for anyone who couldn't make the meeting.
As remote teams strive to maximize meeting time, using meeting tools to create an agenda, take notes, and send follow-ups is critical. Because we can't communicate face-to-face or in an office, we'll have to communicate our ideas, feedback, and next steps virtually.
The Best Note-Taking Apps On The Market
Finding an excellent note-taking app is critical for successfully managing your projects, logging next steps, and planning overall strategy when it comes to taking notes digitally. When you can record your next steps with one of the many great note-taking apps on the market, and ideally assign them to meeting attendees, you can actually start getting work done in the meeting. This avoids having follow-up meetings where everyone is confused and no one knows what they are responsible for – it's one of the most effective ways to increase meeting productivity.
You'll leave every meeting with the next steps and remain confident in your game plan if you use the right note-taking app. And to assist you in navigating all of the
1. Hive Notes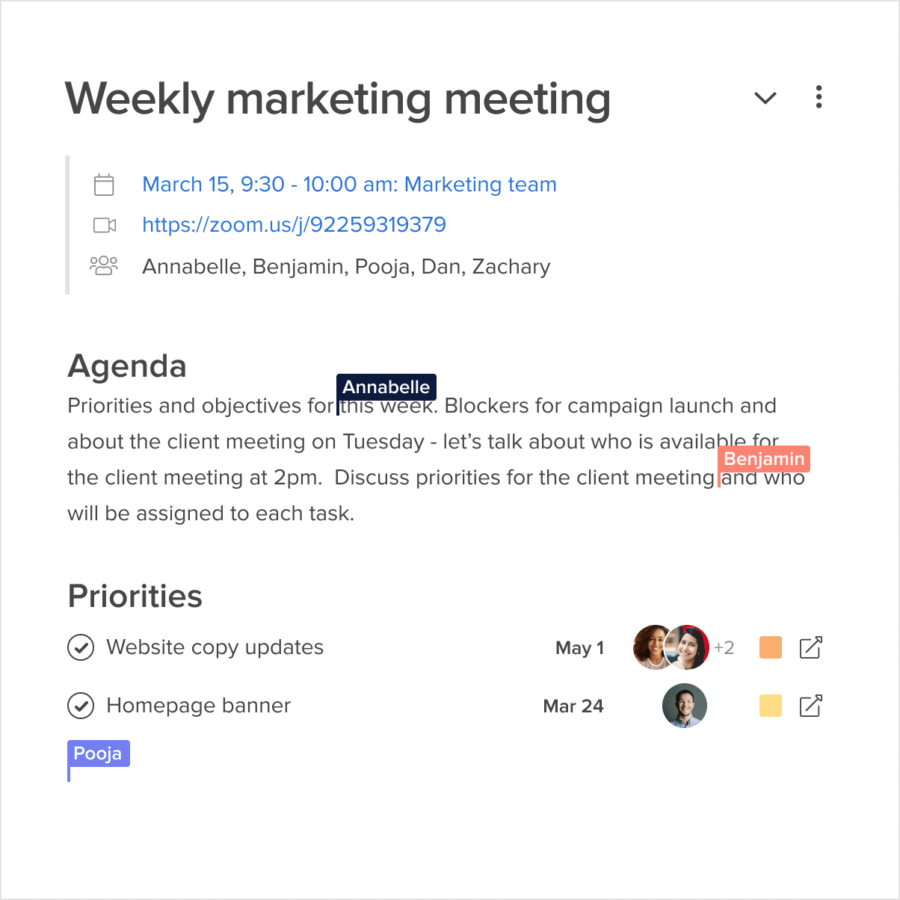 Taking your traditional meeting notes to the next level. You can actually connect a note to a meeting on your Google or Outlook calendar, assign next steps to meeting attendees, and easily share the meeting note with everyone – whether they attended the meeting or not – after the event is over in Hive Notes. It's one of the best note-taking apps available.
Because Hive Notes syncs with your calendar, it will also send you a reminder in Hive five minutes before your meeting begins to remind you to take notes. If the meeting is going to be repeated, Hive has a "notebook" style setup where you can add multiple entries to the same note. During the meeting, use Hive Notes to collaborate in real time, similar to how Google Docs works.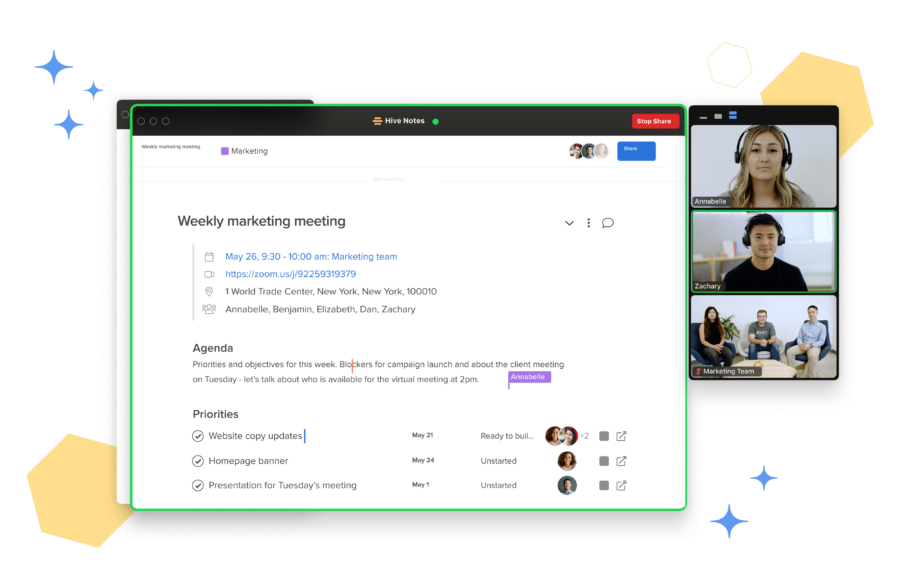 One of Hive Notes' most distinctive features is its Zoom integration, which allows you to use the power of Hive Notes within your Zoom meetings. Hive Notes for Zoom allows you to take notes collaboratively in Zoom without having to open another screen. You can share the note with all meeting attendees, type in real-time, and assign action items all within the Zoom meeting – it's a completely new virtual meeting experience. To begin using Hive Notes in Zoom right away (for free, forever), simply download the Hive Notes app from the Zoom marketplace.
2. Evernote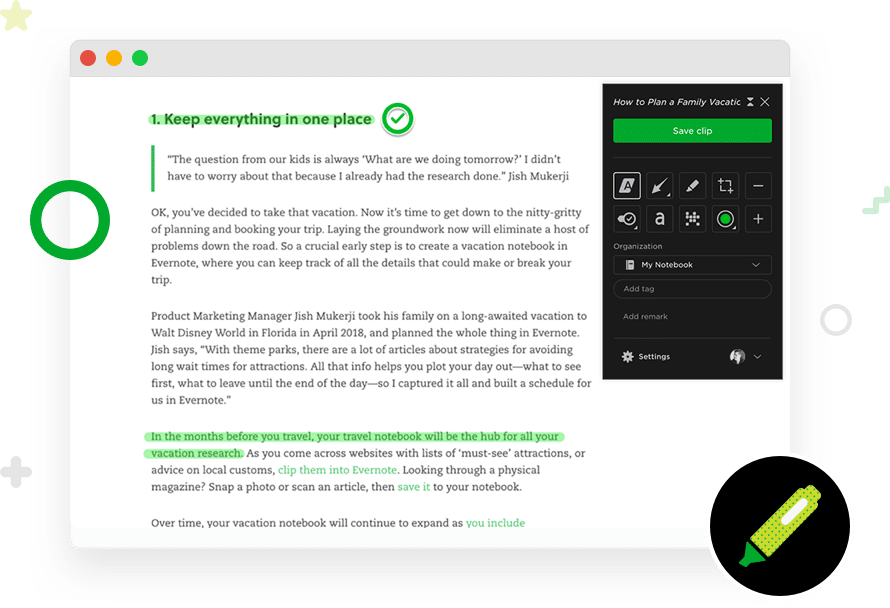 worldwide who want to keep all meeting notes and documents in one place. Evernote allows you to keep all of your notes in one place and sync them across devices. You can also take photos and save them in your notes, as well as create checklists for the next steps.
Additionally, audio from your meetings can be recorded and attached to the meeting note, which is a great way to keep people in the loop who couldn't attend the meeting.
👉 Check out our guide to the top alternatives to Evernote to learn more.
3. OneNote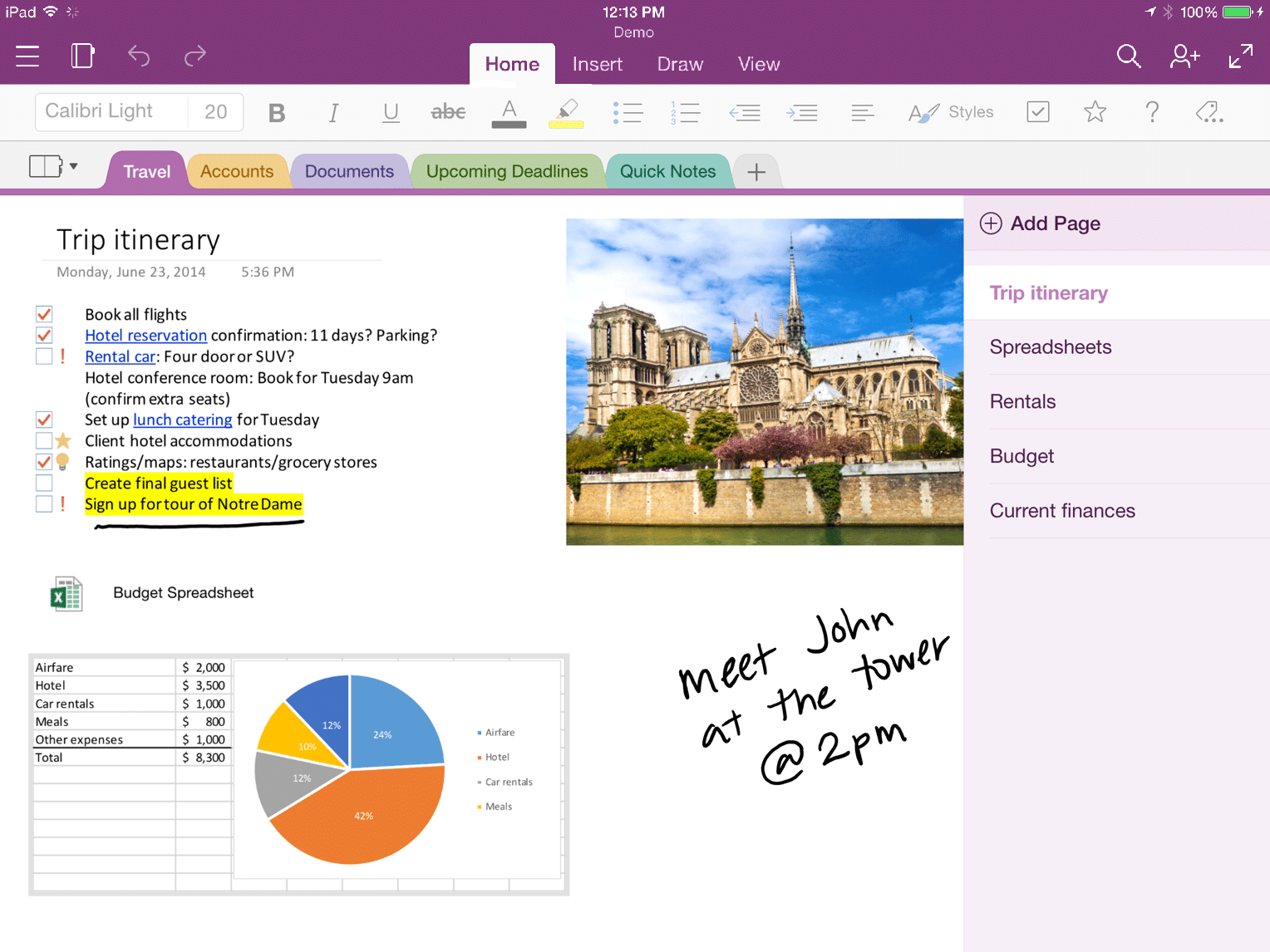 If you want to stay in the Microsoft universe, is a good note-taking tool. With OneNote, you have access to a massive note-pad that you can write in, add images to, and divide into pages and sections. This is a great tool if you use other Microsoft products because you can insert other documents, such as spreadsheets or Word documents, into the note itself.
With a few clicks, you can create lists and revise notes with type, highlight, and ink annotations, which are especially fun to add if you're using a touch-screen device. In OneNote, you can also collaborate and share ideas with other users.
4. Notion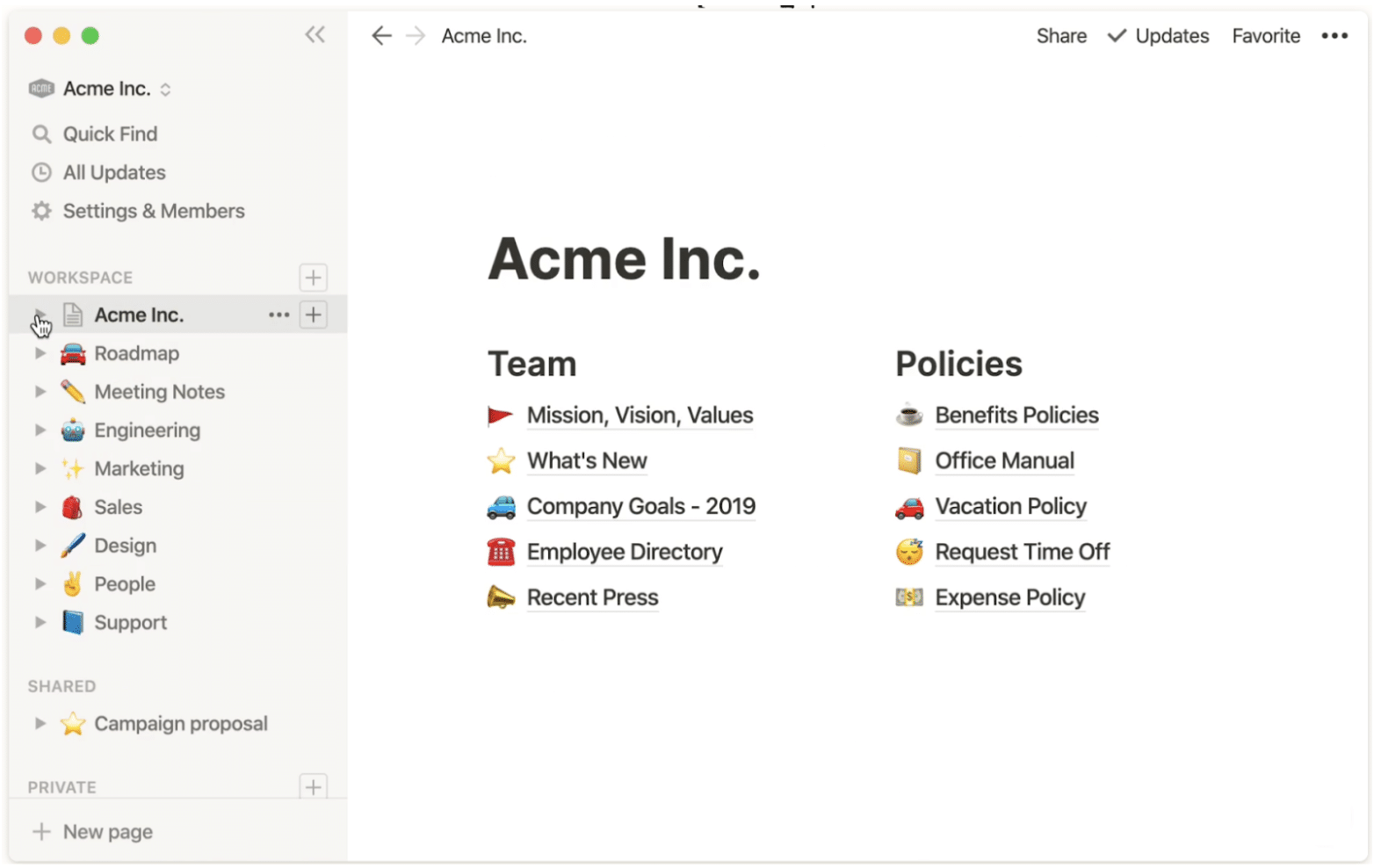 Notion is one of our favorite note-taking apps used by teams for a few primary things, taking notes, managing projects, and creating team-wide wikis are just a few examples. You can store notes and documents in List view in Notion, which allows you to quickly see the most important aspects of a note and its contents. With a few clicks, users can then assign tasks directly from their notes. This is a top note-taking app that has recently gained popularity.
Team wikis allow you to save information such as company policies, contact information, and engineering practices. You can even use emojis here, making wikis a little more fun!
👉 To learn more, read our guide on the best Notion alternatives on the market.
5. Hugo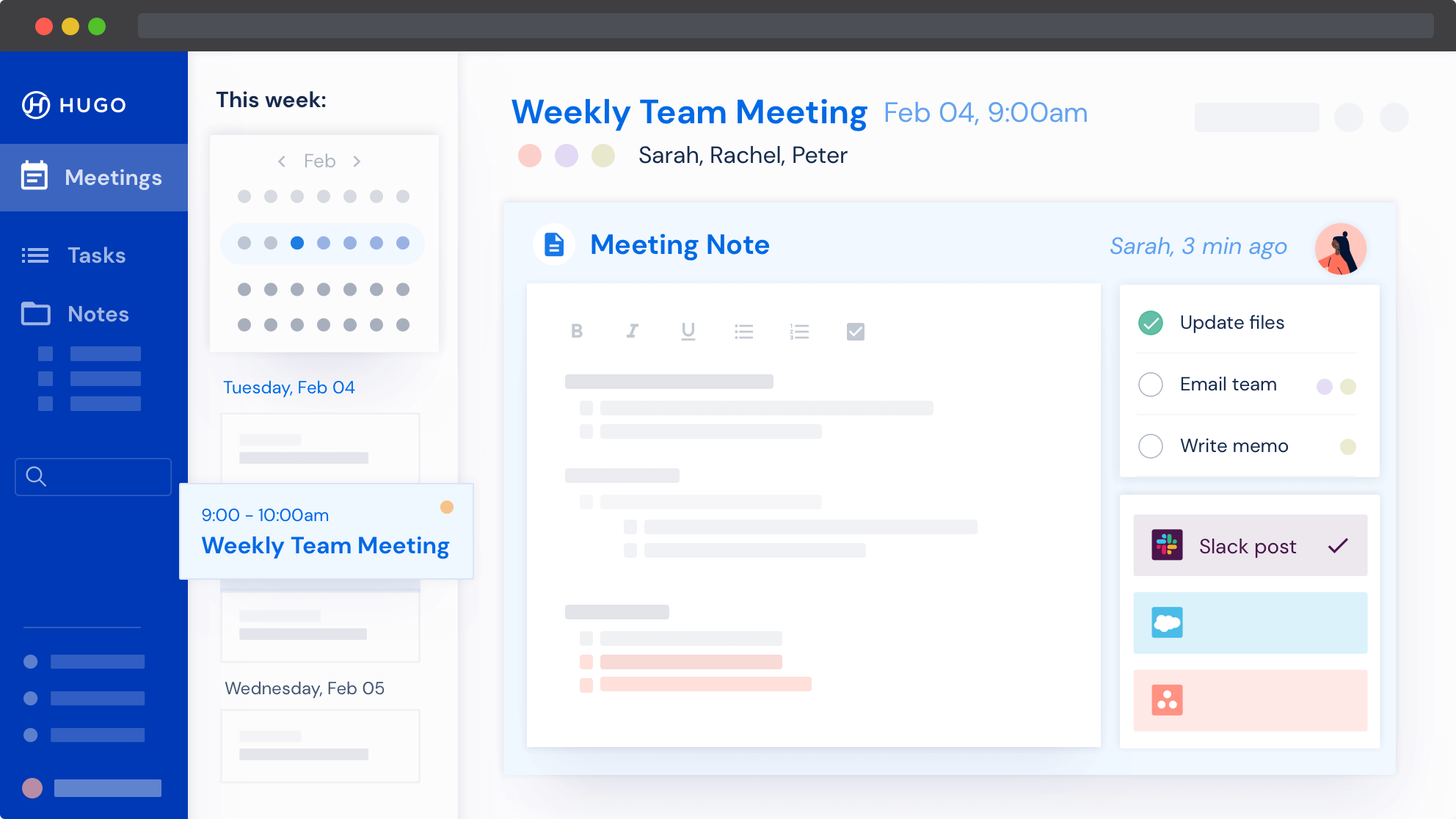 Hugo is a centralized place for all notes, meetings, and tasks. This is a newer product on the market that serves as a central location for gathering information about upcoming meetings. Hugo provides a general overview of the meetings on your calendar, as well as any tasks associated with them. You can also set reminders to notify you of any upcoming meetings, ensuring that you never forget to create an agenda or prepare.
Hugo also helps you prepare agendas with one-click templates, and you can take notes with both internal and external participants during meetings. Hugo, because of its futuristic and advanced capabilities, is one of our favorite note-taking apps. If you're sick of your standard notepad, give it a shot.
6. Simplenote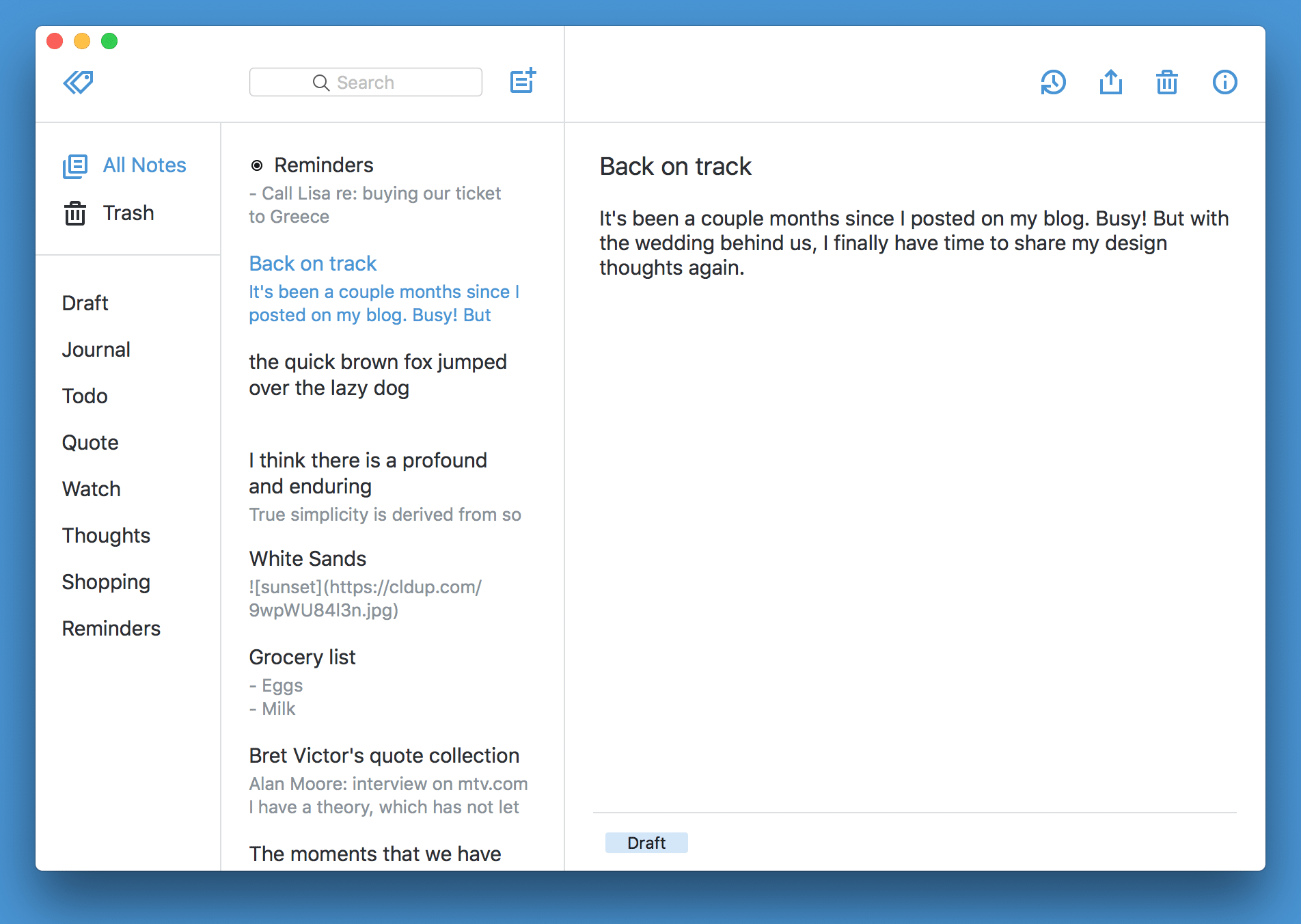 Simplenote is one of our favorite note-taking apps for those who want something as the name implies, it is straightforward and simple. Simplenote lets you sync all notes across devices and view previous changes in markdown mode. You can also easily share lists/notes and meeting items with others, as well as publish your notes online.
Bonus: Simplenote is free!
7. Fellow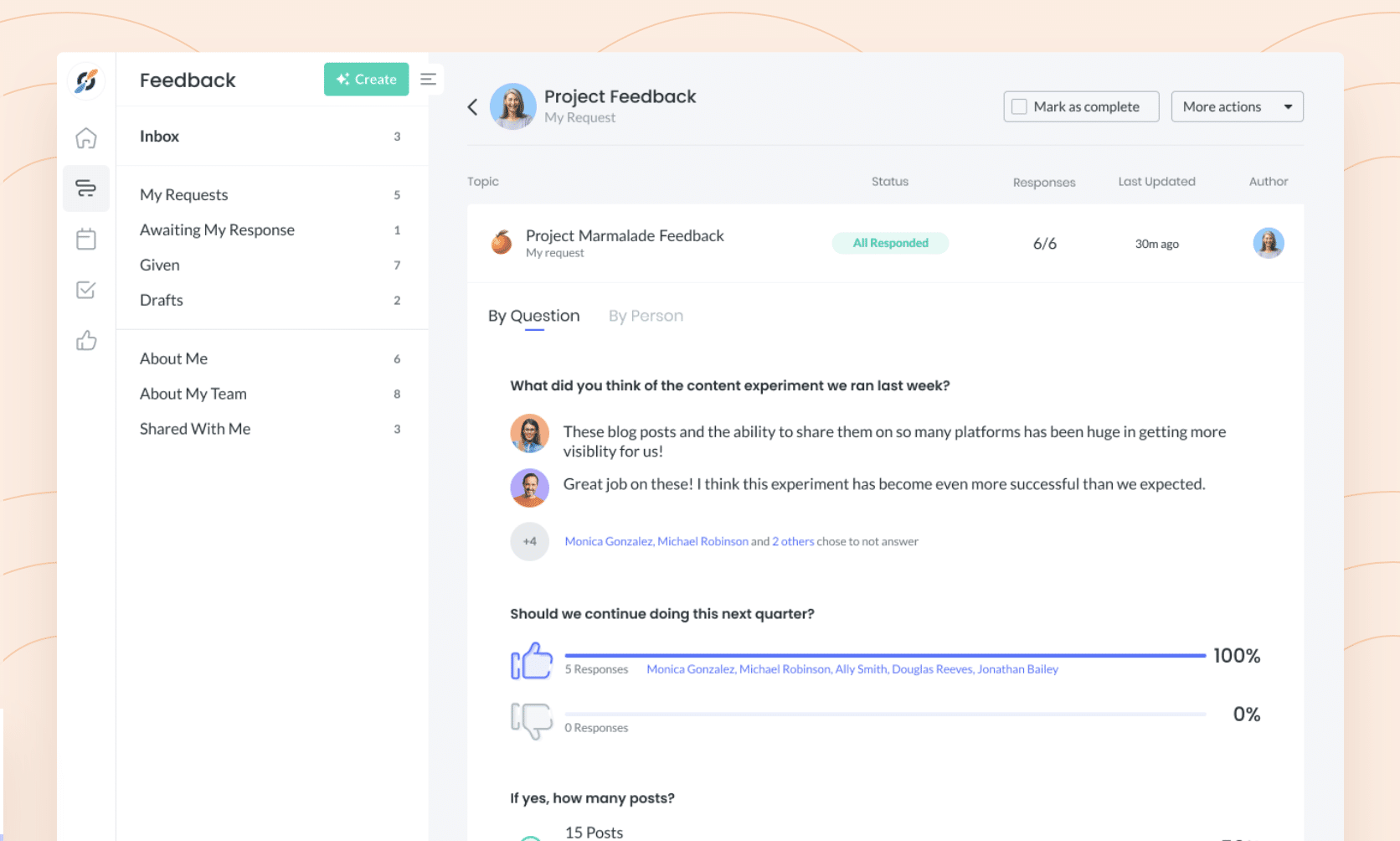 Fellow because of its integration into each individual's workflow, it is one of the best note-taking apps. Fellow allows you to create collaborative meeting agendas, track action items, and plan actionable next steps. In Fellow, you can create your agenda by first applying a template to your meeting note. You can then delegate the next steps to meeting attendees and exchange feedback.
8. Bear
Bear bills itself as an app that can be used for everything from simple notes to full-fledged essays. The app includes an advanced markdown mode that allows you to thoroughly edit and revise your work. Have some notes you don't want others to see? You can password-protect those notes using FaceID. You can also export your notes as PDFs or Word Docs.
9. Google Keep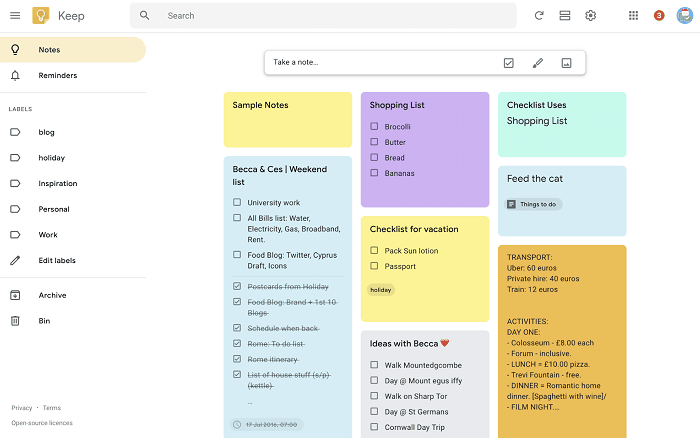 Google Keep is Google's note-taking app allows you to take, store, and share notes from any device. While Google Keep does not have as many features as some of the other apps mentioned, it is a useful platform for anyone who is already using and familiar with Google's productivity tools. Notes in Google Keep can be labeled or colored, and they can be pinned to the top for easy access. Once a note has been shared with others, you can collaborate on it in real time. And, like the majority of Google's other products, it's completely free to use.
Notes can be labeled, pinned to the top, colored, paired with reminders, and collaboratively worked on in real time. It also includes speech-to-text functionality, so you can
10. Apple Notes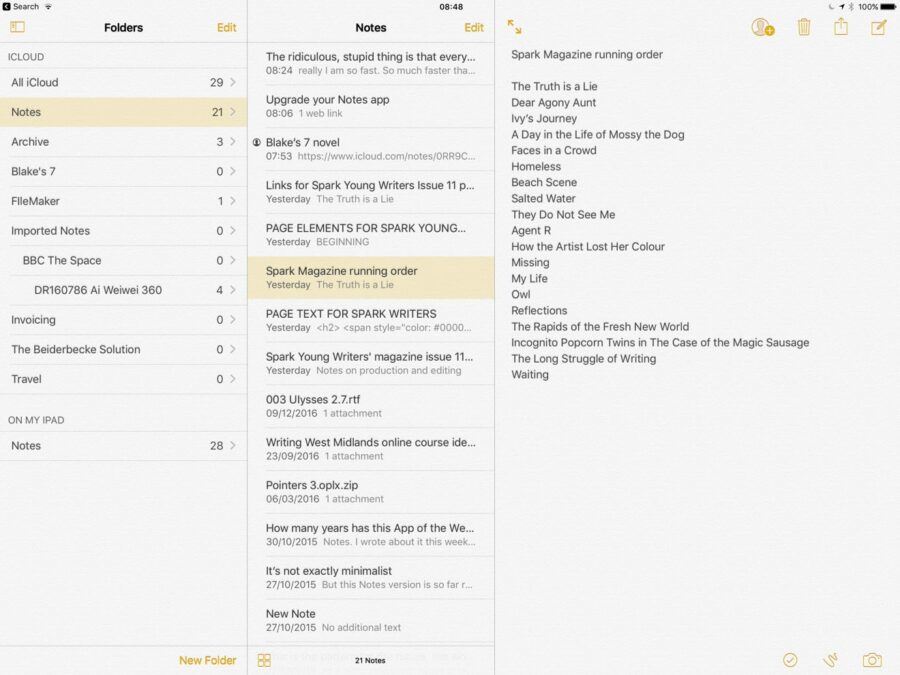 If you are in the Apple ecosystem, Apple Notes (or simply Notes or iCloud Notes) is a simple and convenient free note-taking tool. Apple Notes makes it simple to document and access your notes, whether they are quick thoughts or ideas, checklists, images, web links, scanned documents, or handwritten notes.
You can even get an online version of the app with all your notes if you go to icloud.com/notes – even if you're on a PC or Chromebook. Users of Apple Notes can share notes with other Apple users and @mention them. It's ideal for keeping track of and sharing a grocery list in real time. Another fantastic feature is their search: you can look for images, text, drawings, text scanned in documents, and even something within the image you're looking for, for example.
11. Clover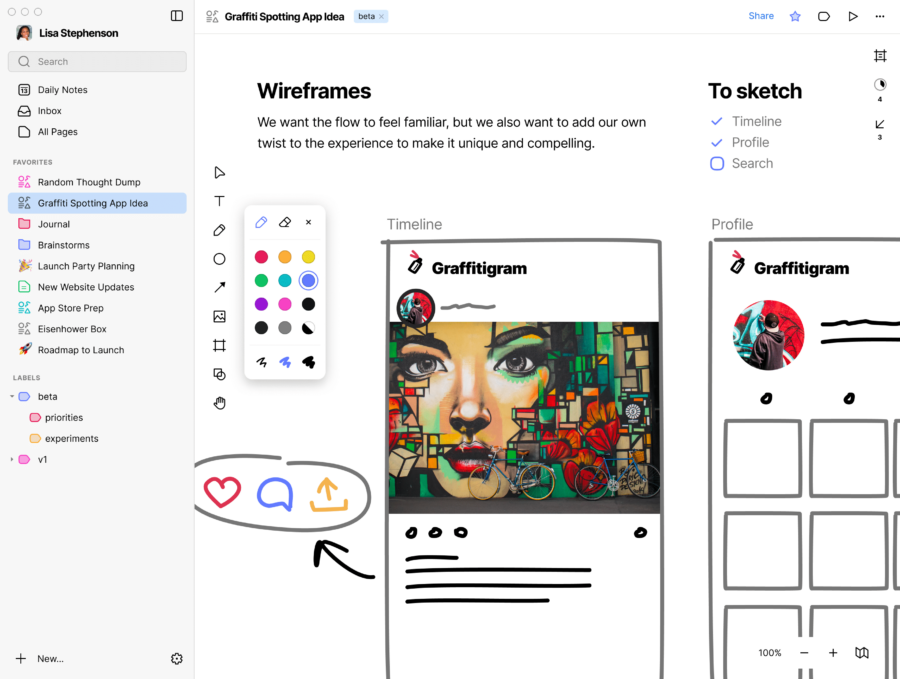 Another solution to facilitate your note-taking is Clover.
The software functions as a digital notebook that combines notes, tasks, a digital whiteboard, and a daily planner into a single app. The solution includes powerful features such as an infinite canvas, presentation options, and the ability to embed rich media into your notes, allowing your colleagues to interact with content from YouTube, Figma, SoundCloud, and other sites.
Clover is available on Mac, Windows, iPad, iPhone, and the web, with a free plan that supports up to three guests and 50MB uploads. Clover Pro plans start at $6 per month and include unlimited guests and 10GB of monthly uploads.
12. Bit.ai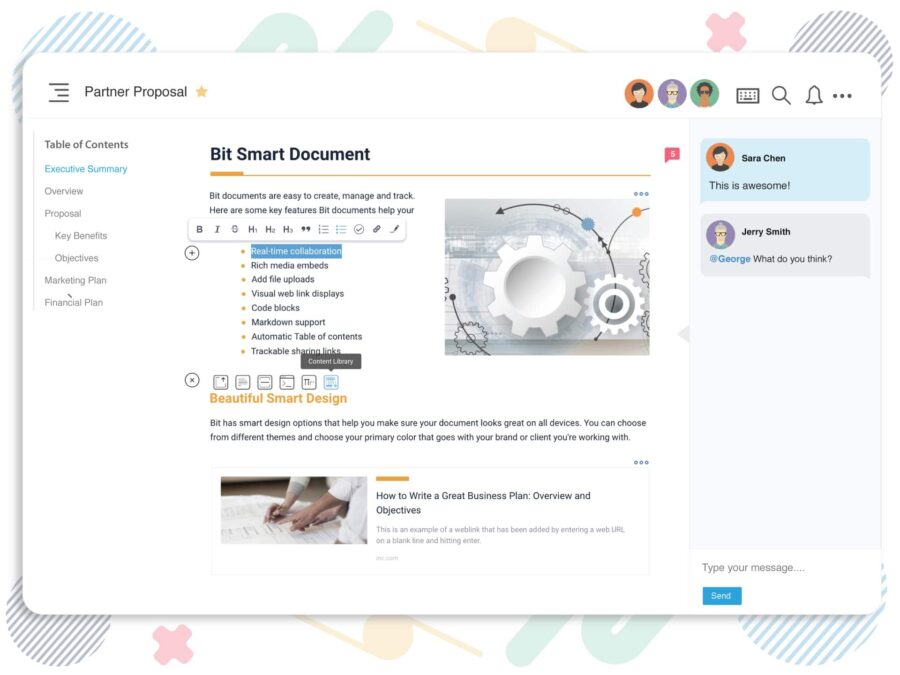 Bit.ai allows you to create dynamic notes, documents, wikis, knowledge bases, projects, client deliverables, technical docs, training guides, and client portals while integrating with other apps. The platform includes a smart and minimalist editor feature that helps remote teams communicate. @mentions, real-time notifications, shared workspaces, permissions, guest access, and several integrations are also available on Bit.ai. Bit.ai has both free and paid plans. Its ProPlan starts at $8 per month per member.
13. nTask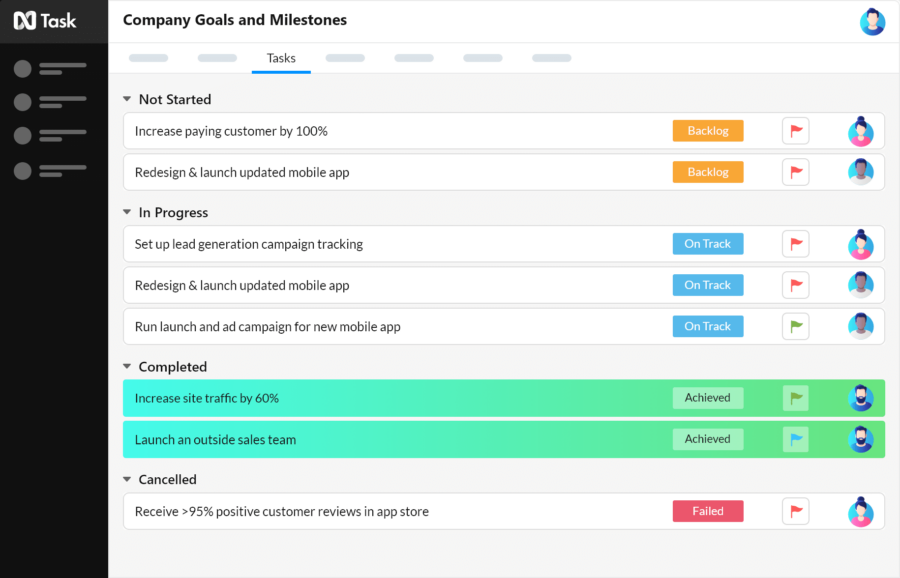 nTask is an excellent task and project management solution that also includes a note-taking application.
The software includes numerous features that make it an excellent tool for storing both short and long-form information about your project. Document management, a note-taking feature, time and issue tracking, and even panel-specific comments are among the features available. Projects, tasks, risks, and many other topics are covered in these panels. nTask has other collaboration tools, such as team chat, bulk team invites, dedicated workspaces, and task comments, in addition to note-taking.
14. Zoho Notebook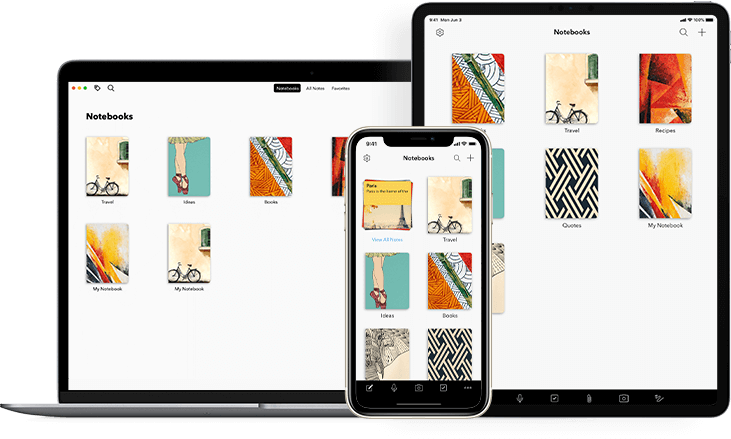 Zoho Notebook is a fantastic tool for taking notes across multiple platforms. The app allows you and your team to jot down ideas on a platform that is always backed up and synced. Zoho Notebook includes checklists, the ability to add media, include files, and sketch out drawings, as well as integrations. You will be able to bring your Notebook ideas over to other popular apps such as Zapier, Google Workspace, Slack, Microsoft Teams, and more, in addition to integrating with other Zoho software. Best of all, it's free to use!
15. xTiles
xTiles is a note-taking app with an intuitive interface and an infinite canvas workspace where you with a drag-and-drop editing feature, you can lay out ideas and keep everything organized. With a flexible kanban board-style layout, xTiles is easily customizable. You can add a wide range of resources to your board, including notes, various media, links, and files. xTiles makes it simpler to convert ideas into projects, share them, and collaborate with others. Its search function allows you to quickly search through your notes, increasing your productivity.
Another benefit of xTitles is its versatility; because it is available on both desktop and mobile, you can jot down notes on your phone and then pick up where you left off when you return to your desk. There is a free plan with limited file uploads and cards, and a $8/month plan with unlimited usage.
16. Obsidian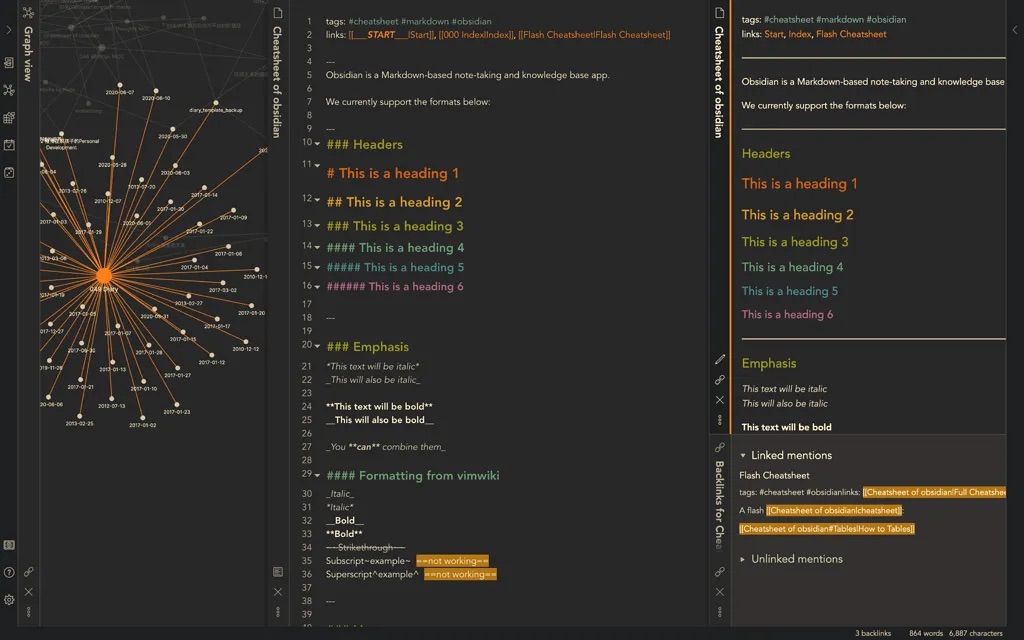 Obsidian is a plain text markdown editor that allows users to customize text styling, keyboard shortcuts, and window layouts. Using links to connect distinct ideas and visualize them in a unique knowledge graph, organize your notes from the bottom up. Obsidian allows you to use plugins and custom CSS to create an efficient and functional workspace. That being said, it's a tool for users who want to use all of these features and don't mind some setup. If all of this sounds daunting, Obsidian has a sizable online community with plenty of tips and tricks to help.
Unlike many other note-taking apps, Obsidian files are kept locally rather than on a cloud server. Because there is no third party holding your notes, there are fewer security risks, and Obsidian always works offline, which can improve overall performance. One thing to keep in mind is that it is the user's responsibility to keep their files safe and secure, though there are paid models available that offer end-to-end encrypted backups. Individuals can use Obsidian for free, but there are paid upgrades and add-ons available.
17. Reflect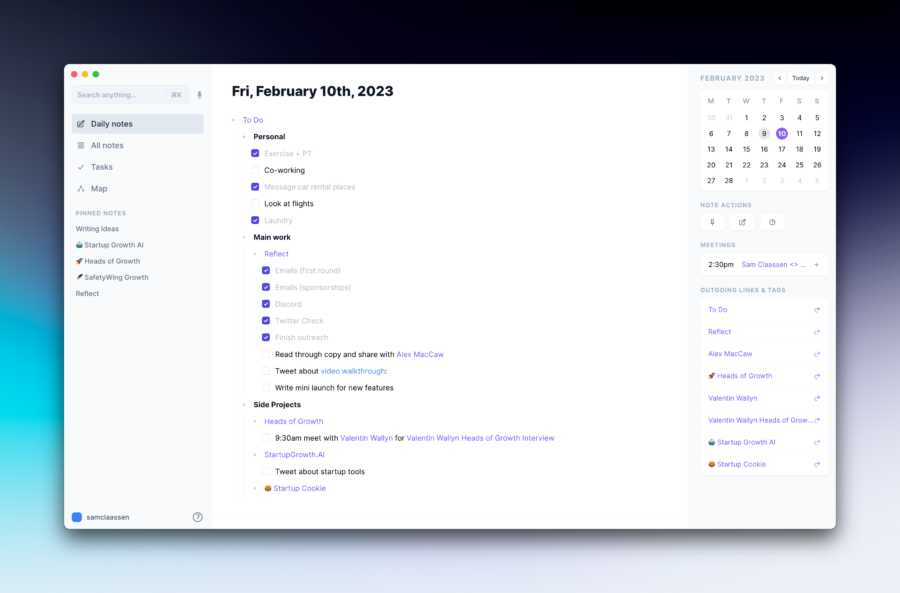 If you're looking for the best note-taking app for personal notes, you should check out Reflect.
By backlinking notes together, the app mimics the way your brain works, resulting in an effective idea map. Reflect's team places security and performance above all else. Even though all notes are encrypted, they sync instantly across your devices (even if you've been working in offline mode). Reflect now includes an AI integration, allowing you to use GPT directly in your notes. The app has a $10 monthly plan that includes networked note-taking, offline sync, a web clipper for Chrome and Safari, end-to-end encryption, Kindle highlights sync, and an iOS app. Furthermore, you can use the Reflect 14-day trial to test all features.
18. GoodNotes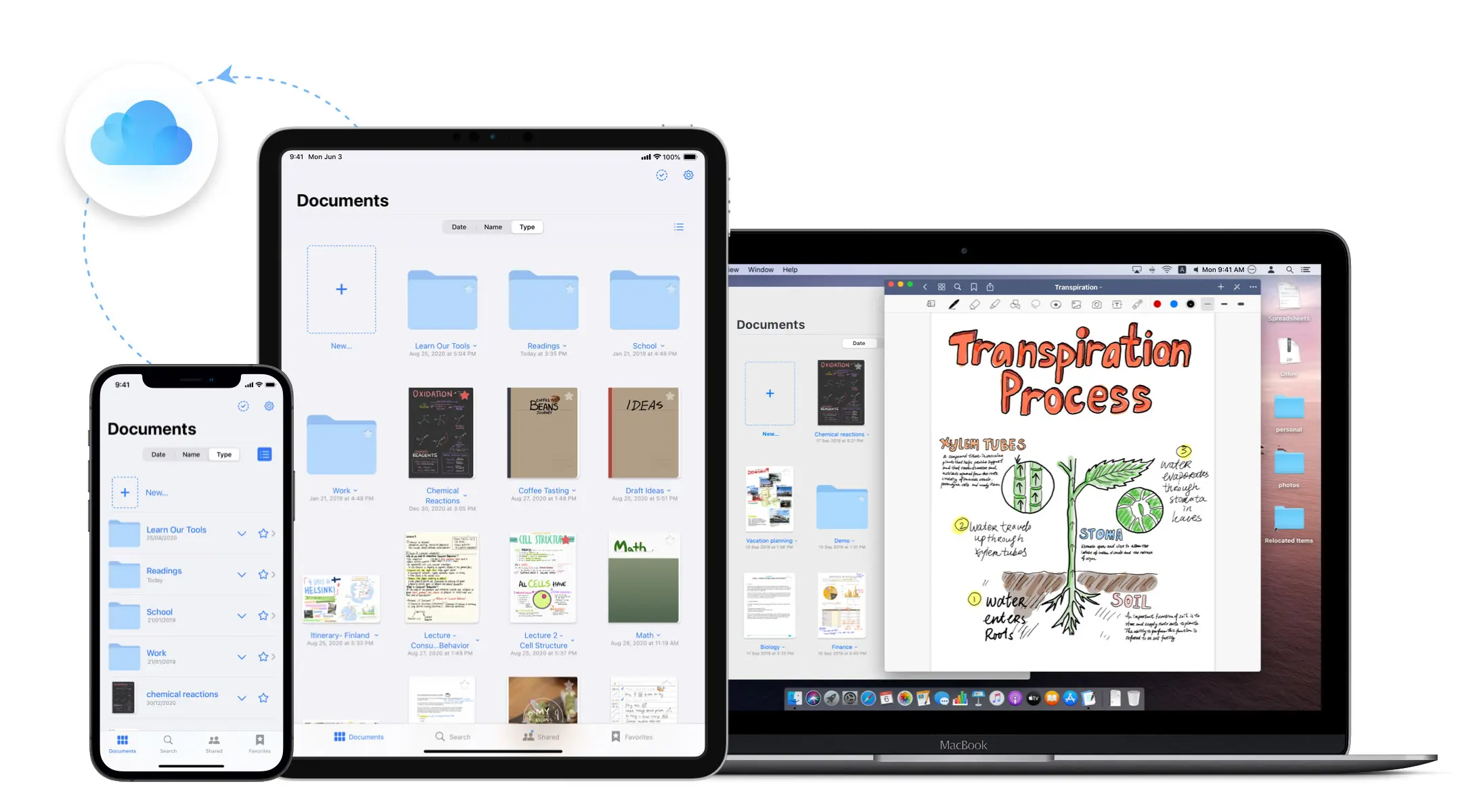 is a note-taking app that offers a distinct digital note-taking experience by allowing users to create customizable notebooks that resemble handwriting. Annotation tools such as pens, highlighters, and shapes allow users to personalize their notes based on their preferences. It also has handwriting recognition and powerful search capabilities, allowing for the quick retrieval of specific words or phrases within notes.
GoodNotes integrates with popular cloud storage platforms, allowing you to access your notes from any device, and it supports PDF import for reviewing and adding notes to existing documents. GoodNotes can boost productivity and simplify workflow with features like text conversion, audio recording, and effective note organization using folders and tags.
That's all there is to it. We've shared our favorite note-taking apps to help you and your remote team collaborate effectively and efficiently. If you think there are any other tools we should add to this list, please let us know in the comments!